[Home Page] [ABI2] [PROBE2] [PNR] [CFG2] [CDU] [TELLTALE]

www.glod.net 1.4.024 of 20020725 @ 173817
---
The ChAoS Utilities - TELLTALE 1.4.068
TELLTALE is a Windows-based program that displays status indicators.
With many batch processes, a large amount of "clutter" means that it's not always obvious whether the procedure has succeeded or not. TELLTALE allows you to add a few simple lines to your batch file and have the results of the process displayed in a clear manner.
In addition, these tell-tales can be set via the in-built PING facility thus allowing the user to monitor the "health" of several host computers at a time.
For example, the following tell-tales are the result of three invocations of a batch file detailed in the TELLTALE tutorial: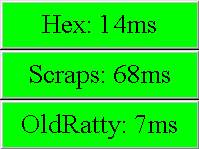 TELLTALE comes with a "read me" file, FAQ, tutorial, change log and small reference manual.
---
This is version 1.4.024 of the web site generated by CFG2 1.2.041 Apr 10 2002 on Thu Jul 25 17:38:17 2002. Problems? Suggestions? Email the webmaster.

[Home Page] [ABI2] [PROBE2] [PNR] [CFG2] [CDU] [TELLTALE]