[Home Page] [ABI2] [PROBE2] [PNR] [CFG2] [CDU] [TELLTALE]

www.glod.net 1.4.024 of 20020725 @ 173817
---
The ChAoS Utilities - ABI2 1.0.002
ABI2 is an MSdos/TurboVision based sector-level disk editor and viewing utility. It can view and, via a write-to-disk facility, edit disk data at the sector level. It can also do track-by-track disk copying.
In fact, in conjunction with removal disk "caddies", we used to use ABI2 to duplicate our hard disk data for backup purposes - the reason that we don't still do that is that we find CDU somewhat more convenient to use for this purpose.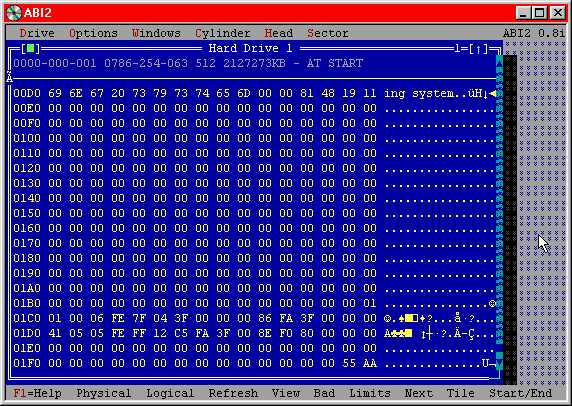 Note that the latest version of ABI2 has on-the-fly compression built in - it can generate GZIP-compatible files as it reads data from the disk. This much reduces disk space requirements. (If it could not do this, one would have to read the data off and then compress it. During this latter compression, of course, you'd have to have two copies of the data on your storage device.)
We have included the current version of the documentation for ABI2 so that you can get an idea of the program's capabilities.
---
This is version 1.4.024 of the web site generated by CFG2 1.2.041 Apr 10 2002 on Thu Jul 25 17:38:17 2002. Problems? Suggestions? Email the webmaster.

[Home Page] [ABI2] [PROBE2] [PNR] [CFG2] [CDU] [TELLTALE]